On Friday, 12 Oct 2001 at 08:48:41 I received a note from William Braud proposing a prediction for an event involving a coordinated activity for children. He said that at 2:00 p.m. CDT, Oct. 12, there may be a great coherence of attention as thousands of school children (elementary and secondary) across the U.S.A. simultaneously recite the "Pledge of Allegiance." This could be a good time to look for coherent activity in the random generator "EGGs."
I was traveling, but asked William for the needed information to make a formal prediction about the event. His suggestion included "five minutes in front of the event, since one would think the students would be preparing and thinking a lot about it just before it began. What about 1:55 p.m., CDT through 2:15 p.m.., CDT?" We agreed on this time period, which corresponds to 18:55 to 19:15, GMT, and specified seconds resolution for the analysis, with a medium confidence rating.
The result is a positive but non-significant trend, with Chisquare 1225.8 on 1200 degrees of freedom, and a probability of 0.296. The following figure shows the 20-minute period.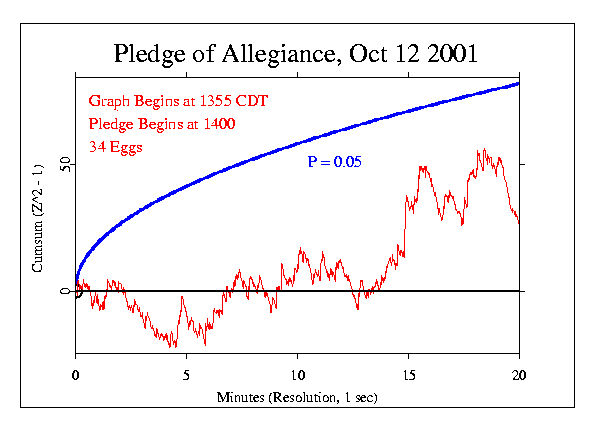 ---