Murder of Israeli and Arab Teens
Note: This analysis is an exploration which is not included in the formal database. The standard GCP analysis is designed for brief or sharply focused events rather than long lasting turmoil. For the latter we can only do probes which may or may not be accurately representative.
From several news sources:
Jerusalem - Israeli police have arrested six people in connection with the murder of a Palestinian teenager who Palestinians say was killed in revenge for the murder of three teenage settlers last month.
Police said the six, several of them minors, are from Jerusalem, Beit Shemesh, and Adam, an illegal settlement in the West Bank near Jerusalem.
Thousands of Hamas supporters marched in Gaza demanding revenge for the murder of Mohammed Abu Khdeir, who was abducted and burned alive.
Speaking on Sunday, Benjamin Netanyahu, Israel's prime minister, said: "I promise you that we will prosecute those that committed this shocking crime to the full extent of the law."
The arrests come as Israeli jets attacked at least ten sites in Gaza in response to rocket attacks, killing at least nine Palestinian fighters. They were not the only casualties of course. Many civilians die, and fear pervades both Palestine and Israel. Only the men who make and sell bombs and guns profit. What a horror those profits bring.
News sources reported that those arrested on Sunday took part in a right-wing demonstration in the city just hours before the murder, at which protesters chanted "death to the Arabs".
Abu Khdeir, 17, was abducted on Wednesday morning outside his home in the Shuafat area of occupied East Jerusalem.
His charred body was found in a Jerusalem forest hours later. The Palestinian Authority attorney general said on Saturday that a post-mortem examination concluded he was burned to death.
"How can a person who believes in Torah kill an innocent person?" This is the question Benny Lau, the rabbi of the historic Ramban Synagogue in the Old City of Jerusalem, asked this week. There are other pressing issues to pursue here: Air raid sirens are wailing every day as Jerusalem is coming under unprecedented rocket attack. And as many as 40,000 reserve troops are being amassed from across the country for a possible ground invasion in Gaza.
But every Israeli I speak to says they are haunted by the July 2 abduction and brutal slaying of 16-year-old Palestinian Mohammad Abu Khdeir.
His murder came just hours after the funeral of three Israeli teens who had been abducted and killed in the West Bank – which enraged Israelis, who still search for what many believe are their Palestinian killers.
Mohammad's killing, though, shocked many. Partly because of its cruelty – he was abducted at 3:45 a.m. as he prepared for the ritual Ramadan meal before dawn, and was then burned alive – and partly because of who was allegedly behind it: young members of a Haredi, or ultra-Orthodox, family, out for revenge.
The GCP assessment looks at two full UTC days. This is an exploratory analysis, not included in the formal database. Long simmering problems like those in the middle east do not lend themselves to normal GCP analytical strategies, which focus on events of short duration. We can do "probes" when the situation comes to full boil, as it has in the last week or 10 days, but it is difficult to know whether the results are representative. In any case, we examine here two days during which 3 Israeli teenagers were laid to rest, and one Arab teenager was murdered in an act of revenge. All were innocent, just as are the civilian victims of bombing and rocket attacks.
You can see in the figure that there are strong deviations on both days, separated by a period where the cumulative deviation trace is flat. We cannot reliably interpret single analyses like this one, but strong and persistent deviations are the signature of an effect. If they show up in replications -- analyses of similar events, we gradually develop confidence that the trends are meaningful.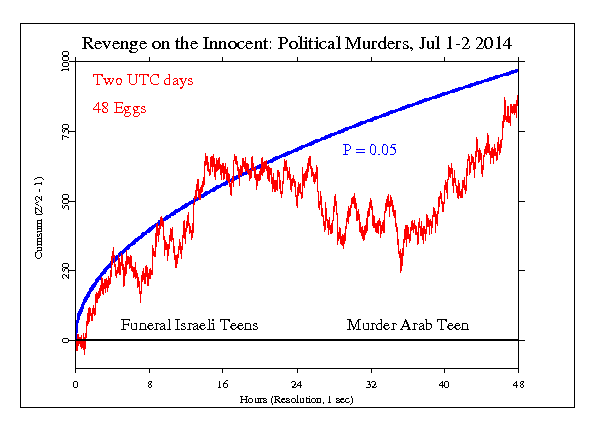 Standard Caveat: It is important to keep in mind that we have only a tiny statistical effect, so that it is always hard to distinguish signal from noise. This means that every "success" might be largely driven by chance, and every "null" might include a real signal overwhelmed by noise. In the long run, a real effect can be identified only by patiently accumulating replications of similar analyses.