The flooding in Northern India has by now definitely killed more than 1000 people. The following text is from a couple of days ago.
BEIJING, June 22 (Xinhuanet) -- The death toll from the monsoon floods in the northern state of Uttarakhand has surged to over 550. Officials say more than 34-thousand people have been evacuated, but up to roughly 50-thousand more are still stranded.
Floods and landslides, triggered by heavy rainfall, hit northern India last Sunday. Uttarakhand was the worst affected state, with hundreds of buildings washed away. According to Indian officials, flooding and landslides have left some people in remote areas completely cut-off, and they could soon run out of water and food.
Army helicopters worked around the clock to bring in supplies for those stranded and bereaved in the hill state. Rescuers were also gaining ground in efforts to reach some 10-thousand Hindu pilgrims stranded in the holy sites of Kedarnath and Badrinath.
India's main political opposition group, the Bharatiya Janata Party, urged the government to declare a national calamity, so that funds could be more easily allotted to the state.
The officials described the devastation in Uttarakhand as "unprecedented in 1,000 years" and said it would need at least five years for the flood-affected areas to recover.
The Times of India newspaper criticized what it saw as the man-made cause of the disaster. In an editorial, it wrote, "the growing frequency of extreme climactic events is emboldening the claim that hydropower projects, encroachments of riverbeds by buildings, and blasting of mountains to build roads are making hill states more susceptible to disaster."
The GCP event was set for 17 June, the 24 hour GCP day. This includes the first major landslides and the early count of casualties. The news was rather slow to spread, and a second, informal analysis is shown below, covering the first 4 days. The result for the formal analysis is 86137.017 on 86400 df, for p = 0.736 and Z = -0.631.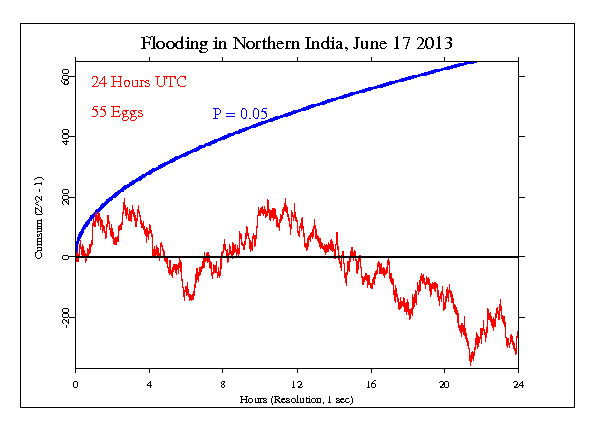 Natural disasters unfold slowly, with the major tragic effects becoming visible after days, in most cases. The GCP analysis approach is designed to focus on shorter periods of a few hours, to enhance the likelihood that any effects are attributable to the nominal event rather than the plethora of other major happenings occuring around the same time. Our upper limit is typically 24 hours, used mainly for events like this one, with a gradually increasing presence in global consciousness. To give a picture that includes more of this time, the next figure shows 4 days, beginning with the 17th.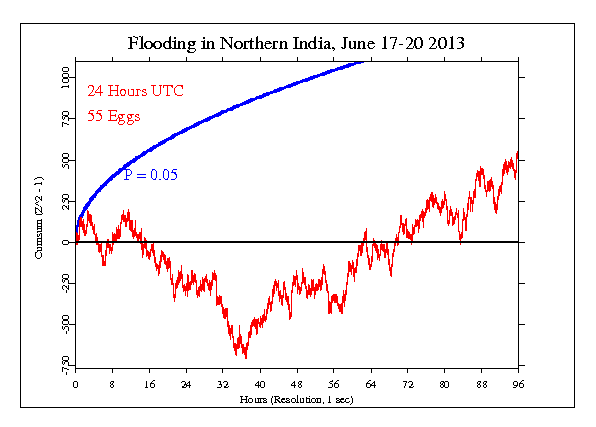 It is important to keep in mind that we have only a tiny statistical effect, so that it is always hard to distinguish signal from noise. This means that every "success" might be largely driven by chance, and every "null" might include a real signal overwhelmed by noise. In the long run, a real effect can be identified only by patiently accumulating replications of similar analyses.