Robin Williams Dead
Standard analysis
From the New York Times:
Robin Williams, the comedian who evolved into the surprisingly nuanced, Academy Award-winning actor, imbuing his performances with wild inventiveness and a kind of manic energy, died on Monday at his home in Tiburon, Calif., north of San Francisco. He was 63.
The Marin County sheriff's office said in a statement that it "suspects the death to be a suicide due to asphyxia." An investigation was underway.
The statement said that the office received a 911 call at 11:55 a.m. Pacific time, saying that a man had been found "unconscious and not breathing inside his residence." Emergency personnel sent to the scene identified him as Mr. Williams and pronounced him dead at 12:02 p.m.
A few hours later, about 4 pm PDT, his death was publicly announced, setting off a wave of commentaries, and retrospectives of his amazing performances.
The GCP event was set for 24 hours beginning at the announced time of death, following the precedent of Michael Jackson's death. The result is Chisquare 86526.313 on 86400 df, for p = 0.380 and Z = 0.305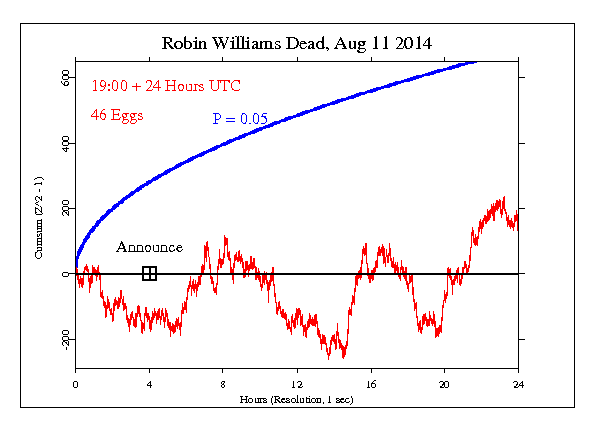 Standard Caveat: It is important to keep in mind that we have only a tiny statistical effect, so that it is always hard to distinguish signal from noise. This means that every "success" might be largely driven by chance, and every "null" might include a real signal overwhelmed by noise. In the long run, a real effect can be identified only by patiently accumulating replications of similar analyses.