The Sea to Shining See Concert to benefit people hurt by the September 11 terrorist disaster was a TV special featuring a large number of well-known musicians and actors. A prediction was made by Paul Bethke.


On Fri, 28 Sep 2001, Paul wrote: 

    > Did you give any prediction to the 2-hour "Telethon" that aired
    > last Friday on *every* channel from "Sea to shining see"? 
    > (I like that title.) If not - I'd like to make one.
    >
    > I'm still not sure how you do those duration-predictions. I'd
    > think the two hours of the show (8:00-10:00 Central) would be 
    > a start - but I would think something like this could linger 
    > after anyone watching got "worked up". What do you think?

    I think that is a good idea, and it had not occurred to me. 
    My first reaction is to take the time you give for the program, 
    8-10 PM = 20:00-22:00, CDT; +5 -> 25-27 -> 01:00 to 03:00 UTC, 
    Saturday 22 Sept 2001. Positive cumdev of Chisquare, seconds 
    resolution, medium expectation. That could be the formal
    prediction, with exploration of linger as an option. 

    > Ok. That sounds logical. I *do* like the "linger", however. 
    > Let's be sure to explore that option.

The following graph shows the formal result, which has Chisquare of 7409.6 on 7200 degrees of freedom with p = 0.041.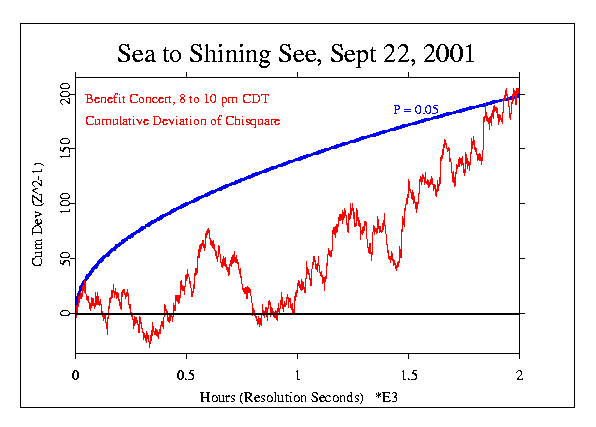 The next graph explores the "linger" effect. Though it is not a robust interpretation, the graph does show that the trend during the show continued for about an hour after it ended.